Articles by Programming Language
or Development Tool
---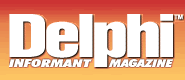 New & Used: Build Expert Systems with Delphi and Prolog, Delphi Informant, Jan 03 -- Dr. Alan Moore reviews Amzi! Prolog + Logic Server for use with Delphi including a full source code sample that demonstrates the features and integration.
Prolog goes Middleware: Java-based Embedding of Logic Servers PC AI, Jul/Aug 01 -- Thomas Steiner describes how to embed the Amzi! Logic Server in CORBA and RMI with Java.

Java Meets Prolog for Advisors, Analysts and Agents PC AI, Nov/Dec 96 -- Encapsulating a Prolog engine in a Java Class.
Using Rules to Code the Heart and Soul of VB Applications, VB Tech Journal, Sep 95 -- An introduction to combining Prolog and Visual Basic to implement an intelligent genealogical database. See the samples in Amzi! Prolog + Logic Server for the code example used in this article.
Objects and Logic--C++ Meets Prolog, PC AI, May/Jun 95 -- A discussion of encapsulating Prolog code within C++ objects.
Extending C with Prolog, Dr. Dobb's Journal, Aug 94 -- An introduction on integrating C and Prolog, with some background on Prolog that indicates which parts of an application are best coded in Prolog, and which in C. Illustrated with a multimedia installation expert system.


---
---
Copyright ©1995-2006 Amzi! inc. All Rights Reserved. Privacy Policy.
Amzi!, KnowledgeWright and WebLS are registered trademarks and Adventure in Prolog, Logic Server, Logic Explorer, Adventure in Prolog and Subscription Plus are trademarks of Amzi! inc.