Useful Vendor Sites
Borland's Community Site - Technical notes, downloads, newsgroups and everything else you need to know about using Borland's C++ Builder, Delphi and JBuilder.
PC AI Magazine -- A comprehensive index to AI on the web, plus information and articles from PC AI. One of our favorite places.

-- Sun's JavaSoft. Download the JDK (Java Development Kit) and lots of Java documentation, including an excellent Swing tutorial.

Java Tutorial -- On-line and downloadable versions of the book from JavaSoft that describes how to write Java programs and applets.This is kept up-to-date with the latest JDK, and includes an explanation of native interfaces (which is how Amzi! is connected to java).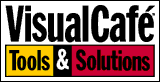 -- Symantecs Visual Cafe intenet tool and other security and anit-virus tools.



Other Useful Sites
Gamelan -- Lots of Java stuff: tools, applets, samples, documentation and much more.
Instant Recall -- Useful documentation on using Amzi! with Borland C++, plus some neat products and information on knowledge based and safety critical software.
Hamilton Software -- List of products for use Microsoft Access and Microsoft Visual Basic, and business application development services.


---
---
Copyright ©1995-2006 Amzi! inc. All Rights Reserved. Privacy Policy.
Amzi!, KnowledgeWright and WebLS are registered trademarks and Adventure in Prolog, Logic Server, Logic Explorer, Adventure in Prolog and Subscription Plus are trademarks of Amzi! inc.